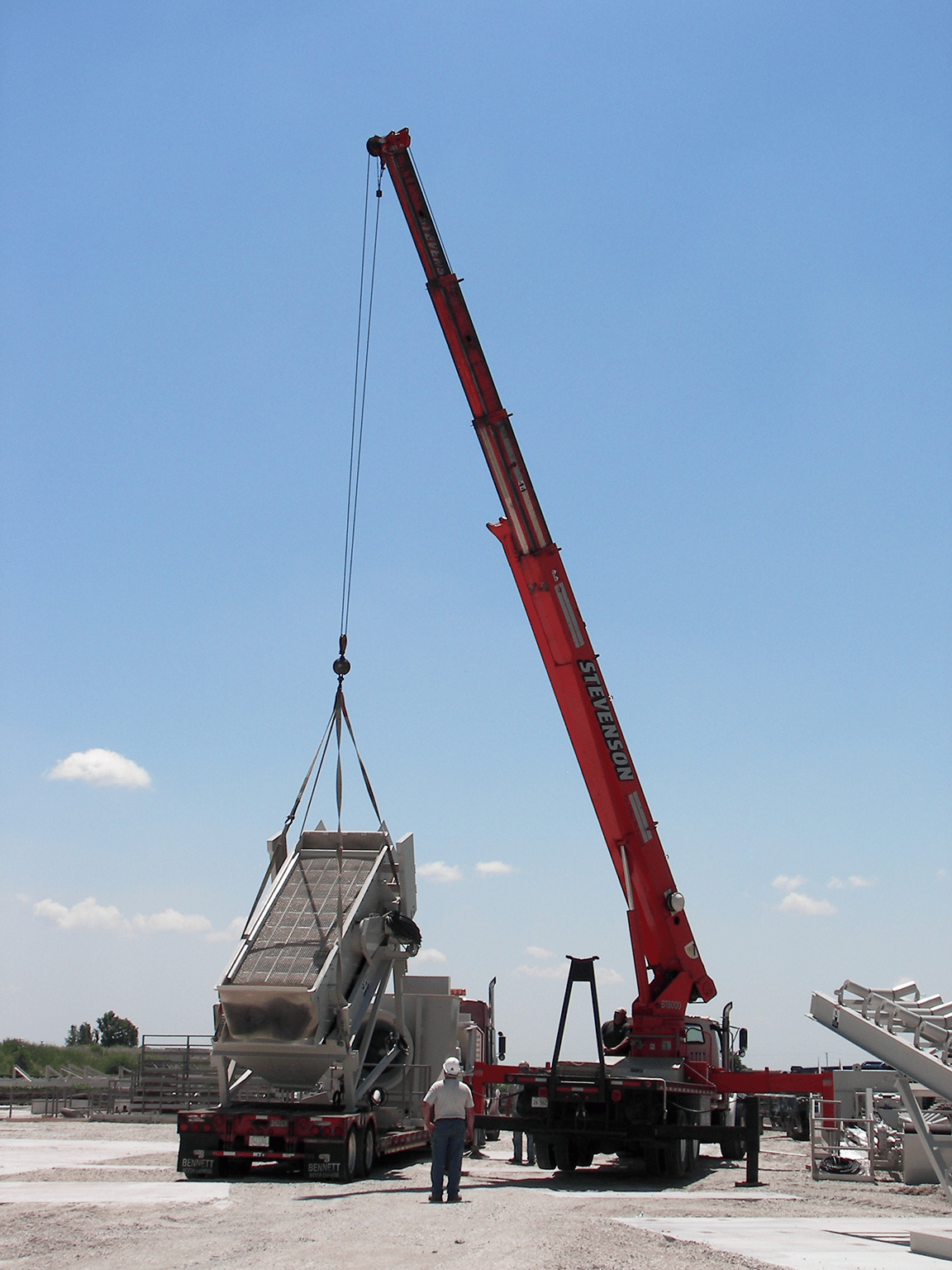 Stevenson Crane Service performs more than ten-thousand jobs a year, ranging from small maintenance activities to mega developments that require on-site staffing with full-time project managers, planners, and safety personnel.
Fortunately for our customers, we offer a team of experts ready and able to help with lifting projects of all types.
Throughout all of our successful lifting outcomes, we've developed the flexibility to provide your company with personal, immediate attention even during large-scale projects. This sets us apart from every other service contractor in our marketplace.
We go above and beyond for your projects.
CASE EXAMPLE: HEAVY LIFTING BY THE LAKESHORE
As an example of the turnkey project resources that Stevenson Crane Service provides, imagine your company has an installation project involving a piece of machinery that is being delivered by barge to the Chicagoland area. You'll have several logistical hurdles to overcome as you work to transport and install the machinery.
One call to Stevenson gives you the option to have our experts handle any part of the process. For example:
If the dock management does not have equipment large enough to offload your machinery, we can bring our own manpower and specialty equipment to offload.
We can manage all of the trucking internally to move your machinery to your jobsite.
If need be, we can assist with secure indoor temporary storage.
If transport requires special trucking conditions, we have you covered with a series of special extendable heavy hauling trailers. We have a fleet of self-powered Goldhofer trailers that allow us to handle weights in excess of one-million pounds.
Our project management team will sit down with you to establish a comprehensive lifting and logistics plan. AutoCad drawings from our own internal certified engineering staff are available to assist in the process of planning your moving, rigging, lifting, and offloading needs – all the way through placement.
Our safety team will also be part of any critical lift issues and special needs, and are available to provide site specific training, certifications, and drug testing.
We also have the capacity to manage local permitting or permissions, traffic plans, and proper certified traffic controls for state, county, or local properties. We are also able to help identify when FAA concerns become an issue for both preplanned FAA permitting, or emergency FAA permissions with local airport authorities.
Stevenson Crane Service can take your lifting project all the way from concept to completion.
Call Us For A No-Hassle Consultation (630) 972-9199
Lift Planning:

Stevenson Crane Service has been your complete resource for lift planning from start to finish since we began in 1989. We leverage decades of experience, our insight into solving problems, and the latest technology to help you to plan a safe and successful lifting project.
Turn-key job planning
Critical lift plans, engineering, and AutoCAD capable
Pre-bid consultations and/or site visits
Extensive standard/specialty rigging options
Engineering:


Stevenson Crane Service offers engineering solutions that go above and beyond traditional lifting firms. Our engineers bring improved efficiencies to project planning, provide engineered and stamped drawings to customers, and are available to help your company achieve even the most complex goals.
Engineering, Planning, and Transportation Services Include:
Evaluation, site review, and project management
OSHA compliant safety planning and management
Route planning and heavy haul services
Offloading, setting & installation services
Permits & Traffic Control:
Throughout our history, Stevenson Crane Service has been involved in some of the most extreme transport projects found anywhere in the Midwest. A big part of that involves traffic control services and regulatory permitting, which we provide as part of our comprehensive hauling services.
As part of your lifting and hauling plan, Stevenson Crane Service experts are available to help your company secure any necessary street or FAA permits or permissions required for your project. We'll work with local officials to ensure your project materials are transported along the safest, most efficient route possible with custom traffic control plans for state, county, or local properties.
We are also able to help coordinate your project with local airport authorities for both preplanned FAA permitting or emergency FAA permissions.
Storage:
Managing jobsite and project logistics is easy with Stevenson Crane Service. When your crews need a little extra room to get things done, we have plenty of secure temporary storage space and a team of logistics experts available to help with transportation and timing.
We'll pick up and haul your heavy equipment, store it safely in our secure facility, and transport it back to you as your schedule requires. Jobsite logistics doesn't get any easier.
Safe, Secure, Turn-Key Storage
Our 85,000-square-foot storage facility secured, monitored, and insured to protect your heavy equipment against all forms of damage and theft. Features of our storage capabilities include:
85,000 square feet of available indoor storage space
30-ton overhead cranes and heavy forklift access for offloading
Secured, monitored, and equipped with video surveillance
Crating and uncrating services
Short-term and long-term storage
Located in SW Chicago, IL with convenient highway access
Trucking and logistics management
Commonly stored equipment at our facility includes all kinds of heavy machinery and vehicles, including construction equipment, HVAC and building machinery, pre-assembly construction materials, industrial machinery, processing tanks, transformers, lifting equipment, and much more.
Contact us today at (219) 972-9199 and (630) 972-9199 to learn more about how we can make your next equipment relocation an easy one.
Workplace Safety:
Stevenson Crane Service's accident-free work record is a result of an unwavering commitment to safety from every employee in our organization.
Let The Lifting Professionals bring our team of highly skilled operating engineers, the newest fleet of cranes in Chicagoland, and a safety-focused company culture to your project.
ASA Chicago 11-year safety award winner
Crane & Rigging Group Safety Award recipient ever year of SC&RA membership
Thomas J. Reynolds Award for Excellence in Construction Safety from TAUC
ZERO Accidents Award every year of SC&RA membership
Perfect OSHA record and industry-low EMR
For more information on Stevenson Crane Service's comprehensive safety program, contact us at (630) 972-9199 or (219) 972-9199.
Thank you for considering Stevenson Crane Service as your strategic partner!